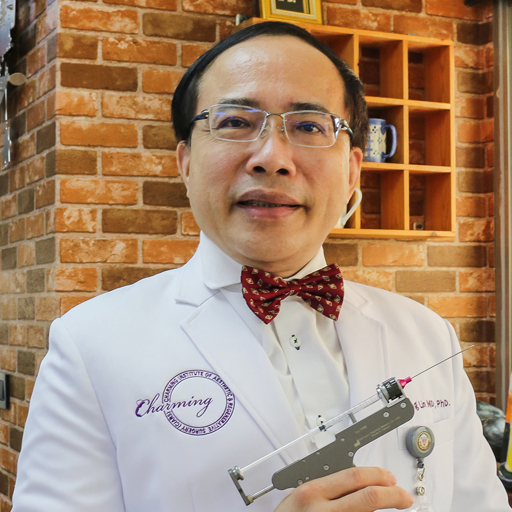 Tsai Ming Lin, M.D., Ph.D. is a board-certified plastic surgeon in Taiwan specializing in plastic, reconstructive and cosmetic surgeries. He is best known for his theory of Micro-Autologous Fat Transplantation (MAFT), and he is also the inventor of MAFT-GUN, a micro-scale injector.

He has given presentations on micro-autologous fat transplantation at scientific meetings worldwide and has continuously published papers. Dr. Lin has published over eighty articles in scientific journals indexed in SCI. Since 2015, he has published more than twenty articles related to the clinical applications of the MAFT technique in textbooks and journals such as Plastic and Reconstructive Surgery-Global Open, Aesthetic Surgery Journal, Annals of Plastic Surgery, Clinics in Plastic Surgery, Journal of Plastic, Reconstructive & Aesthetic Surgery, Journal of Craniofacial Surgery, etc. He has also published a digital textbook detailing the techniques of MAFT.
Dr. Lin completed his residency training in Plastic and Reconstructive Surgery at Kaohsiung Medical University Hospital in Taiwan. 
After residency, he completed the fellowship of stem cell research at Michigan State University, U.S. Later, and he obtained his Ph.D. from Kaohsiung Medical University Hospital. His research focused on the isolation of Adipose-Derived Stem Cells (ADSCs). He is now a member of numerous organizations, including Taiwan Surgical Association, Taiwan
Society of Plastic Surgery, Taiwan Society of Aesthetic Plastic Surgery, Association of Hyperbaric and Undersea Medicine of the Republic of China, International Society of Aesthetic Plastic Surgery (ISAPS), American Society of Plastic Surgeons (ASPS), and the International Society of Plastic and Regenerative Surgery (ISPRES). Dr. Lin is presently an editorial board member of Aesthetic Plastic Surgery. Dr. Lin is currently the director of the Charming Institute of Aesthetic & Regenerative Surgery (CIARS) in Kaohsiung, Taiwan, and an assistant professor of Kaohsiung Medical University.
Micro-Autologous Fat Transplantation (MAFT)
Plastic and Aesthetic Surgery
Stem Cell Research
Tissue Engineering
Hyperbaric Medicine
Microsurgery
Burn Treatment
Chou CK, Lin TM, Chiu CH, Wu CY, Chen IH, Lai CS, Lin SD. (2012) Influential Factors in Autologous Fat Transplantation – Focusing on the Lumen Size of Injection Needle and the Injecting Volume. IPRAS Journal. 9:25- 27. (*Corresponding author)
 Chou C, Lin TM, Chou CK, Lin TY, Lai CS, Lin SD. (2012) Micro-Autologous Fat Transplantation (MAFT) for the Correction of Sunken Temporal Fossa – Long Term Follow Up. IPRAS Journal. 9:28-29. (*Corresponding author)


Lin TM, Lin TY, Chou CK, Lai CS, Lin SD. (2014) Application of Microautologous Fat Transplantation in the Correction of Sunken Upper Eyelid. Plastic and Reconstructive Surgery – Global Open. 2(11):e259. (SCI)
Lin TM. Chapter 11: Total Facial Rejuvenation with Micro-Autologous Fat Transplantation (MAFT) In Pu LLQ, Chen YR, Li Q.F. Et al. (eds): Aesthetic Plastic Surgery in Asians: Principles and Techniques, ed 1, 2015, St. Louis, CRC Press.


Kao WP, Lin YN, Lin TY, Huang YH, Chou CK, Takahashi H, Shieh TY, Chang KP, Lee SS, Lai CS, Lin SD, Lin TM. (2016) Microautologous Fat Transplantation for Primary Augmentation Rhinoplasty: Long-Term Monitoring of 198 Asian Patients.Aesthetic Surgery Journal. 36(6):648-656. (SCI, *Corresponding author)


Lin TM, Lin TY, Huang YH, Hsieh TY, Chou CK, Takahashi H, Lai CS, Lin SD. (2016) Fat grafting for re-contouring the sunken upper eyelids with multiple folds in the Asians-Novel mechanism for neo-formation of double eyelid crease. Annals of Plastic Surgery. 76(4):371-375. (SCI)


Huang YH, Lin TM. (2017) Application of Microautologous fat transplantation in the correction of sunken upper eyelids. Chinese Journal of MedicalAesthetics and Cosmetology. 23(1):1-3. (*Corresponding author)
Lee SS, Huang YH, Lin TY, Chou CK, Takahashi H, Lai CS, Lin SD, Lin TM. (2017) Long Term Outcome of Microautologous Fat Transplantation to Correct Temporal Depression. The Journal of Craniofacial Surgery. 28(3): 629-634. (SCI, *Corresponding author)


Chou CK, Lee SS, Lin TY, Huang YH, Takahashi H, Lai CS, Lin SD, Lin TM. (2017) Micro Autologous Fat Transplantation (MAFT) for Forehead Volumizing and Contouring.Aesthetic Plastic Surgery. 41:845–855. (SCI,*Corresponding author)

Lin YN, Hung SH, Lin TY, Chou CK, Huang YH, Takahashi H, Lai CS, Lin SD, Lin TM. (2018) Micro-autologous 

fat transplantation for rejuvenation of the Dorsal Surface of the Aging Hand. Journal of Plastic, Reconstructive & 

Aesthetic Surgery 71(4):573-584. (SCI, *Corresponding author)

Huang SH, Huang YH, Lin YN, Lee SS, Chou CK, Lin TY, Takahashi H, Kuo YR, Lai CS, Lin SD, Lin TM. (2018) Micro-Autologous Fat Transplantation for Treating a Gummy Smile. Aesthetic Surgery Journal 38(9):925-937. (SCI, *Corresponding author)


Huang SH, Lin YN, Lee SS, Huang YH, Takahashi H, Chou CK, Lin TY, Chen RF, Kuo YR, Lai CS, Lin SD, Lin TM. (2019) Three Simple Steps for Refining Transcutaneous Lower Blepharoplasty for Aging Eyelids: The Indispensability of Micro-Autologous Fat Transplantation. Aesthetic Surgery Journal 15;39(11):1163-1177. (SCI, *Corresponding author)


Lin TM, Huang SH, Lin YN, Lee SS, Kuo YR, Lin SD, Takahashi H. (2020) Fat Grafting for Facial Contouring (Nose and Chin). Clinics in Plastic Surgery. 47(1):91-98. (SCI)


林才民. 以精微自體脂肪移植做全臉部年輕化(Total facial rejuvenation with micro autologous fat transplantation.) 脂肪美容整形外科學 (Fat Cosmetic Plastic Surgery) 2020 ( accepted)


林才民. 簡單三步驟經由皮膚下眼瞼整形術以治療眼皮老化 (Three Simple Steps for Refining Transcutaneous Lower Blepharoplasty for Aging Eyelids: The Indispensability of Micro Autologous Fat Transplantation.) 脂肪美容整形外科學 (Fat Cosmetic Plastic Surgery) 2020 ( accepted)


 林才民. 精微自體脂肪移植(MAFT)用於治療露牙齦笑 (Treating Gummy Smile of Micro Autologous Fat Transplantation (MAFT)) 脂肪美容整形外科學 (Fat Cosmetic Plastic Surgery) 2020 ( accepted)


TM Lin, SH Huang, Y N Lin, H Takahashi, CK Chou, SD Lin. An Innovative Strategy for Gummy Smile Treatment – Micro-Autologous Fat Transplantation. Plastic and Aesthetic Research. 2020 ( accepted)


TM Lin, SH Huang, Y N Lin, H Takahashi, CK Chou, SD Lin. Simultaneous Recontouring the Tear Trough Deformity and Lid-cheek Junction Depression During Lower Blepharoplasty. Plastic and Aesthetic Research. 2020 (accepted)


TM Lin, H Takahashi, CK Chou. Chapter 14: The legacy of micro-autologous fat transplantation (MAFT) – reality from evidence-based medicine. A Di Giuseppe, F Bassetto, F Nahai (eds): Fat Transfer in Plastic Surgery: Techniques, Technology, and Safety. 2021 (invited chapter)


Lin TM. Invited Discussion on: "A combination of Three-Step Lower Blepharoplasty to Correct Four Types of Lower Eyelid Deformities in Asian People". Aesthetic Plast Surg. 2022 Jan 10. (SCI)


Lin TM. Chapter 10: Periorbital Rejuvenation for Asians. In: Advances and Refinements in Asian Aesthetic Surgery. Clinics in Plastic Surgery. 2023 (SCI, invited chapte