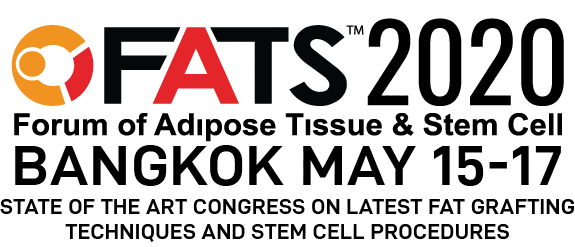 10th Edition Anniversaries Forum of Adipose Tissue & Stem Cell, FATS BANGKOK 2020 Brings its Expertise to
Bangkok in MAY 2020, hosted by King Chulalongkorn University, Bangkok,
the Top University in Thailand for 7 Consecutive Years
FATS, Forum of Adipose Tissue & Stem Cell, will be hosting its 10th Edition Anniversary, FATS BANGKOK 2020 conference from the 15th to 17th May 2020 (Main Congress). FATS is honored to host FATS BANGKOK 2020 in King Chulalongkorn University, Bangkok, the top university in Thailand for 7 consecutive years, by QS World International Rankings 2020.
As FATS tagline is "Bringing You Only The Best", the focus includes an educational, non-biased, well-rounded platform which includes a comprehensive learning structure designed and lead by our highly reputable scientific advisory board, Prof Guy Magalon (France), Dr Patrick Tonnard (Belgium) and Dr Alexis Verpaele (Belgium). The specially invited world class faculty speakers for FATS BANGKOK 2020, many of whom are pioneers in their specific fields or the most sought-after doctors in their respective countries are world renowned Dr Jeremy Magalon (France), Dr Ramon Llull (Spain), Dr Tunc Tiryaki (United Kingdom), Dr Jeroen Steven (Netherlands), Dr Derek Banyard (United States).
FATS Bangkok 2020 lectures scope will focus on Regenerative Medicine & Surgery : How to Begin Step by Step, Best Practices Course on 15th May 2020 and Facial Aesthetic Regenerative Surgery on 16th -17th May 2020.  There will also be a one day pre congress on on the 14th May 2020, cadaver anatomy class conducted in Chula Soft Cadaver Centre, lead by Associate Professor Tanvaa Tansatit and Dr Lee Kim Siea ( Malaysia ). Delegates can choose the option of attending 3 full days of FATS BANGKOK 2020 or 4 full days which include cadaver facial anatomy class.
To follow suit after delegates attended FATS BANGKOK conferences, The FATS Academy of Procedural Medicine courses serves as a hands-on platform for doctors who are looking to learn basic to advanced regenerative surgery techniques. The learning in the various surgeries and lectures is pivotal. All procedures are performed on a real patient, and there is a trainer there to offer hands-on guidance, support and assistance to participating delegates.
Over the years, FATS have an amazing network of contacts, which means we are able to draw on unrivaled knowledge and highly skilled individuals in the industry. Our dedication and professionalism allow us to attract the right speakers at the right time. FATS is assisted by a highly experienced advisory scientific board whom help to design the annual conference and invite experienced world-renowned faculty. In summary, everyone who attends this conference benefits immensely.
For those who would like to be part of FATS BANGKOK 2020, please feel free to reach out to our team at any time via email on info@fats.my or to register, visit our website http://www.fats.my