10th Edition Forum of Adipose Tissue & STem Cell, FATS BANGKOK 2022
Brings Its Expertise to Bangkok in December 2022 - Decoding Regenerative Surgery & Medicine.
FATS, Forum of Adipose Tissue & Stem Cell, returns after a two-year hiatus due to the global pandemic with its 10th Edition Anniversary, FATS BANGKOK 2022 conference, which will be held from 10th to 12th December ( Main Congress ). Once again, FATS is honored to host cadaver demonstrations in collaboration with King Chulalongkorn University, Bangkok, the top university in Thailand for 8 consecutive years, by QS World International Rankings 2021.
As FATS mission is " Bringing You Only The Best", the focus includes an educational, unbiased, well-rounded platform which includes a comprehensive learning structure designed and led by our highly scientific advisory board, Prof. Carlo Tremolada. The specially invited world class faculty speakers for FATS BANGKOK 2022, many of whom are pioneers in their specific fields or the most sought-after doctors in their respective countries are the world renowned Dr Yves Saban ( France ), Dr Pietramaggiori Giorgio ( Switzerland ), Dr Saja Scherer ( Switzerland), Prof Lin Tsai Ming ( Taiwan ), Prof Eray Copcu ( Turkey ), Dr Kasey Sung ( Korea ), Dr Safi Kang ( Korea ) and many more.
"DECODING REGENERATIVE SURGERY & MEDICINE" is the theme for this year's conference, where we provide you with the opportunity for in-depth learning in this field including post congress cadaver hands-on experience to ensure you acquire the surgical skills needed for your clinical practice.
FATS Bangkok 2022 lecture scopes will focus on Regenerative Surgery & Medicine, and its applications with cadaver demonstrations on Day 1 of the Main Congress. There will also be hands-on cadaver anatomy courses conducted in Chula Soft Cadaver Centre, led by Prof. Carlo Tremolada, Dr Lee Kim Siea and Dr Kritsada Kowitwibool.
Delegates have the option of attending the FULL 3-DAY Main Congress, or FULL 3-DAY Main Congress (Dec 10th-12th) plus FULL 2-DAY Hands-On Cadaver Anatomy Course (Dec 10th -14th). The additional 2 days of hands-on cadaver are exclusively for delegates of FATS Bangkok 2022 and offer attendees insights into the procedures. Attendees will acquire extra knowledge on facial and knee joint anatomy, and fat grafting injections in both areas.
To follow-suit after delegates attended FATS BANGKOK conferences, the FATS ACADEMY of Procedural Medicine courses serves as a hands-on platform for doctors who are looking to learn basic to advance regenerative surgery techniques. The learning in the various hands-on live surgery courses is vital for surgeons looking to acquire surgical techniques in the field of regenerative surgery. All procedures are performed on real patients and there is a trainer there to offer hands-on guidance, support and assistance to participating delegates.
Over the years, FATS has amassed an amazing network of international contacts, which means we are able to draw on unrivalled knowledge and highly skilled surgeons in the industry. Our dedication and professionalism allow us to attract the right speakers at the right time. FATS is assisted by a highly experienced advisory scientific board who help to design the annual conference and invite experienced world-renowned faculty. In summary, everyone who attends this conference benefits immensely.
For those who would like to be part of FATS BANGKOK 2022, please feel free to reach out to our team via email info@fats.my.
Enjoy huge savings with the EARLY BIRD SPECIAL and COMBO PACKAGE (Main Congress and Hands-on Cadaver) now, To register for the event, visit our website https://www.fats.my/event-registration-2022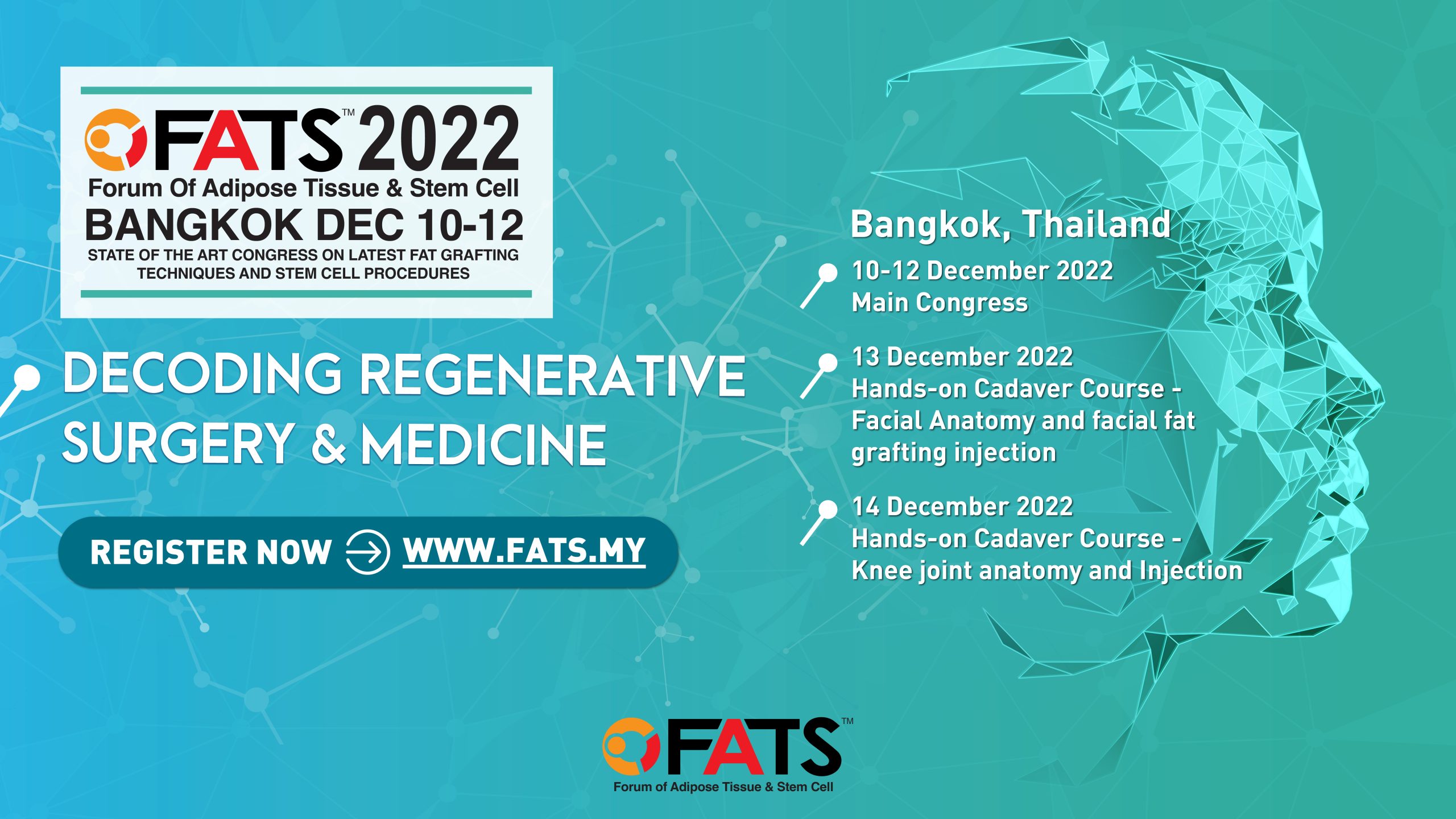 FATS BANGKOK 2022 is brought to you exclusively by:
Official Conference Hotel for FATS BANGKOK 2022