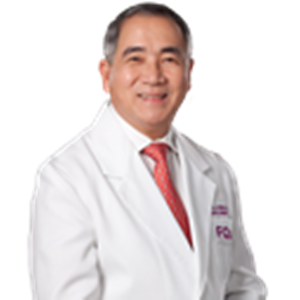 Board certified in 1980, Dr. Lucero is one of the longest practicing Filipino plastic, reconstructive and aesthetic surgeons today – and the surgeon of choice of many. He is widely acknowledged as an authority in the field by his peers.
He is a Diplomate of the Philippine Board of Plastic Surgery, and a Fellow of the Philippine College of Surgeons and of the Philippine Association of Plastic, Reconstructive and Aesthetic Surgeons.
He spent 32 years of dedicated service at the U.P. Philippine General Hospital, where he also held the position of Chief of Plastic Surgery for 17 years. Further, he helped mold a new generation of skilled plastic and cosmetic surgery practitioners by personally mentoring 40 plastic and cosmetic surgeons comprising the Florencio Q. Lucero Plastic Surgical Circle, who now continue Dr. Lucero's legacy in patient safety and satisfaction in their own practice.
With his solid credentials, Dr. Lucero is sought after as a speaker in international conferences. He had held key positions in various plastic surgery associations, and is currently the Secretary General of the Oriental Society of Aesthetic Plastic Surgery, of which he is also a founding member.
For all the accolades he has received over the years, Dr. Lucero never stopped being a compassionate physician at heart. He continuously seeks better ways to treat his patients, and to contribute to the betterment of the plastic surgery community as a whole.
In 2006, he pioneered the use of Autologous Fat Stem Cell Transplant in the Philippines. His practice now combines stem cell therapy and plastic surgical techniques to restore people's youthful appearance on the outside from within.
Dr. Lucero earned his degree in medicine from the Far Eastern University Institute of Medicine in 1970, and passed the Physician Licensure Examination on that same year, placing 7th.
He completed his general surgery residency in 1973 and his plastic surgery residency in 1975 at the U.P. Philippine General Hospital, and then finished another year of general surgery training in 1976 at the Eaton Hospital in Pennsylvania, U.S.A.
To hone his skills further, Dr. Lucero attended the Burns Surgery Fellowship of the Cook County Hospital in Illinois from 1976 to 1977, and the Aesthetic Plastic Surgery Fellowship Program of the Straith Clinic in Michigan from 1977 to 1979.
Now, even as an accomplished plastic surgeon, he continues to keep himself abreast of developments in his field by participating in conferences and symposia.